Wusthof Classic 36-piece Knife Block Set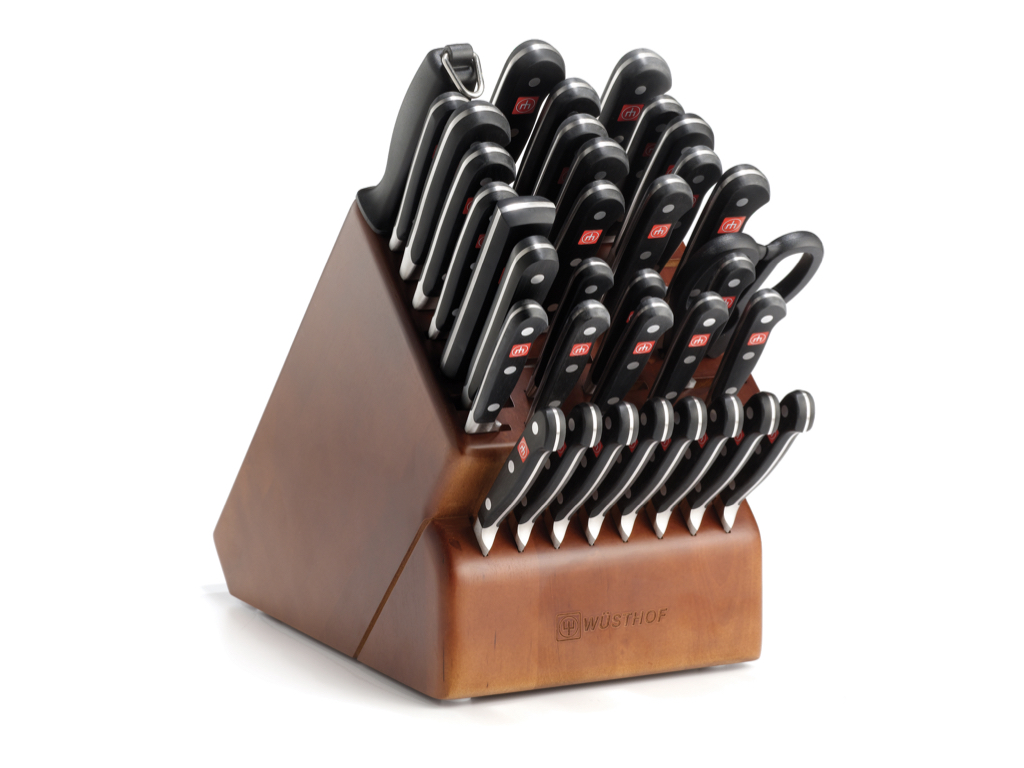 Wusthof Classic 36-piece Knife Block Set
WÜSTHOF'S best-selling collection for generations, CLASSIC full-tang knives are precision-forged from a single piece of an exclusive high-carbon stainless steel. CLASSIC knives feature a new handle design made of a highly durable synthetic material – Polyoxymethylene (POM) – which has a tighter molecular structure to resist fading and discoloration.Throughout its history, WÜSTHOF has focused almost solely on the manufacturing of knives and tools for the professional chef and home cooking enthusiast. The demands of the kitchen require different types of knives and tools for different cutting tasks. WÜSTHOF's cooking tools offer a wide variety to meet all those demands.
This Mega Block set includes:
2 ¾" Peeling Knife

3" Serrated Paring Knife

2 ¾" Trimming Knife

3" Straight Paring Knife

3 ½" Paring Knife

4" Paring Knife

4 ½" Utility Knife

4 ½" Cook's Knife

Eight 4 ½" Steak Knives

4 ¾" Hard Cheese Knife

5" Boning Knife

5" Tomato Knife

5" Soft Cheese Knife

5" Santoku

6" Utility Knife

6" Cook's Knife

6" Meat Cleaver

7" Fillet Knife

7" Straight Meat Fork

7" Santoku

8" Offset Deli Knife

8" Bread Knife

8" Carving Knife, Hollow Edge

8" Cook's Knife

10" Cook's Knife

10" Super Slicer

10" Steel

Shears

35 Slot Cherry Block
Made in Germany, Solingen.